front
The sleeve art for the 33 RPM 10" LP record, The Goons: Unchained Melodies, features photographs of the Telegoon puppets in a cartoon context.
(Decca LF 1332, 1964)
(click on puppets for larger images 18K)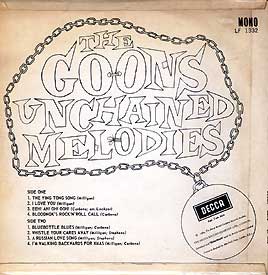 back
Designed as a tie-in to BBCtv's The Telegoons, this 10" LP collected together most of the Goons' previous 78, 45 and EP releases. Interestingly, the LP did not take its title from any of these. Instead, it was named for the Goons' hilarious send-up of Unchained Melody, recorded with George Martin at Parlophone in 1955. Several serious versions of Unchained Melody topped charts around the world in 1955, but the Goons' version was not released because the writers of the original, and their publishing company, were not amused. We can only guess at how the Goons' version of this song would have fared in the UK charts!

SIDE 1:
1. The Ying Tong Song (Milligan; 1956)
2. I Love You (Milligan; 1957)
3. Eeh! Ah! Oh! Ooh! (Carbone; arr. Lockyer; 1957)
4. Bloodnok's Rock'n'Roll Call (Carbone; 1956)

SIDE 2:
1. The Bluebottle Blues (Milligan; Carbone; 1956)
2. Whistle Your Cares Away (Milligan; Stephens; 1957)
3. A Russian Love Song (Milligan; Stephens; 1957)
4. I'm Walking Backwards for Christmas (Milligan; Carbone; 1956)

Goon Show trivia:
(1) The Goon Show Companion reveals that the Goons' move to the Decca record label in 1956 was due in part to the bad feeling that resulted from the refusal of Parlophone to release their version of Unchained Melody.
(2) The Goons' version of Unchained Melody was destined to remain in chains for more than three decades, finally to be released in 1990 as the flip-side to Dance with me, Henry (also unreleased since 1955), on an EMI 7-inch 45 RPM single, EM 146. Both tracks also found a home in The Peter Sellers Collection, EMI ECC 5 (tape & CD) in 1990, and again in the EMI 4-CD set, A Celebration of Sellers, in 1993.