(1) John and Cynthia Lennon...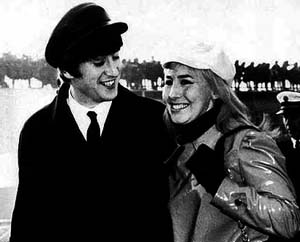 (The following is excerpted from an article in 16 magazine, volume 6, number 5, October 1964, pp 12-15, entitled Now you can be closer to the Beatles than ever before! Be a Beatle People.)
ONLY A FEW lucky people can be close to the Beatles and share their lives--their gayety and charm, their way-out sense of humor and the multitude of the unexpected incidents that seem to flower about them wherever they go and whatever they do. But all of us can cozy a little closer to the Fabulous Foursome simply by joining the Beatle People! All you have to do to get with the Beatles as you've never done before--dig the Beatle way of doing things and do likewise! To help you become a Beatle People 16 brings you this exclusive intimate x-ray which shows what the Beatles are really like!
...
THE THINGS THEY ADORE
RECORDS: This is George's favourite talking point. He's an expert. In fact all Beatle People admire experts on records and the recording industry.
They all admire the Miracles, the Marvettes, Mary Wells, Chuck Berry and Carl Perkins. New favorites: Jimmy Reed, Chuck Jackson and James Brown. They came back from America wild about Tommy Tucker's High-Heel Sneakers.
TELEVISION: John and Cyn spend a lot of time together watching TV. Tops in TV for all Beatle People are The Telegoons (a top-rated English show).
READING: John and Paul are great book people. All Beatle People read the popular dailies, all trade papers and 16 Magazine.
CLOTHES: Beatle Boy-People go for short jackets with two or four pleats behind, preferably a polo-neck sweater beneath--then plain drainpipe trousers, with suede boots side-zipped.
Beatle Girl-People like separates for a day, but enjoy dressing up for evening. Jane Asher went for long dresses and 'granny' shoes. "I'm having copied some of the clothes I wear in my new film, Masque Of The Red Death. They're all clingy and medieval--terrific!", she says.
Color? Anything as long as it's black!
THIS AND THAT: They all use Signal toothpaste, Tabac after-shave...Paul's a compulsive mint-cream sucker!
(This little morsel of Telegoons history was contributed by Kylie Porter. Thanks Kylie!)
(2) John Lennon's review of The Goon Show Scripts...
While living in New York City, John Lennon wrote a very personal account of the importance of the Goons in his life, which was also his sole book review. The book was Spike Milligan's The Goon Show Scripts (see Bibliography section), and the review was published in The New York Times, Book Review section, September 30, 1973. Towards the end of the review, and with reference to floating a couple of prisons across the English Channel in Tales of Old Dartmoor (T.G. s02e05), John makes a slight mention that the BBC maybe could have spent more money on The Telegoons production. Here's John's review in it's entirety:
The Goon Show Scripts - written and selected by Spike Milligan
Reviewed by John Lennon
I was 12 when the Goon Shows first hit me. Sixteen when they were finished with me. Their humor was the only proof that the world was insane. Spike Milligan's is a cherished memory for me, what it means to Americans I can't imagine (apart from a rumored few fanatics). As they say in Tibet, "You had to be there." The Goons influenced The Beatles (along with Lewis Carroll/Elvis Presley). Before becoming the Beatles' producer, George Martin, who had never recorded rock-n-roll, had previously recorded with Milligan and Sellers, which made him all the more acceptable -- our studio sessions were full of the cries of Neddie Seagoon, etc., etc., as were most places in Britain.

There are records of some of the original radio shows, some of which I have, but when I play them to Yoko I find myself explaining "that in those days there was no monty pythons 'flyin' circus,'" no "laugh-in," in fact the same rigmarole I go through with my "fifties records," before rock it was just "Perry Como," etc. What I'm trying to say is, one has to have been there! The Goon Show was long before and more revolutionary than "look back in anger" (it appealed to "eggheads" and "the people"). Hipper than the hippest and madder than "Mad," a conspiracy against reality. A "coup d'etat of the mind! The evidence, for and against, is in this book. A copy of which should be sent to Mr. Nixon and Mr. Ervin.

One of my earlier efforts at writing was a "newspaper" called the Daily Howl. I would write it at night, then take it to school and read it aloud to my friends; looking at it now it seems strangely similar to the Goon Show! Even the title had "highly esteemed" before it! Ah well, I find it very hard to keep my mind on the book itself, the tapes still ring so clearly in my head. I could tell you to buy the book anyway because Spike Milligan's a genius and Peter Sellers made all the money! (Harry Secombe got showbiz.) I love all three of them dearly, but Spike was extra. His appearances on TV as "himself" were something to behold. He always "Freaked out" the cameramen/directors by refusing to fit the pattern. He would run off camera and dare them to follow him. I think they did, once or twice, but it kept him off more shows than it helped him get on. There was always the attitude that he was wonderful but, you know...(indicating head). I think it's 'cause he's Irish. (The same attitude prevails toward all non-English British.)

I'm supposed to write 800 words, but I can't count. Anyway, Spike wouldn't approve. I could go on all day about the Goons and their influence on a generation (at least one), but it doesn't seem to be about the book! I keep thinking how much easier it would be to review it for a British paper. What the hell! I've never reviewed anything in my life before. Now I know why critics are nasty. It would be easier if I didn't like the book, but I do, and I'd love you to love the Goons as I do. So take a chance.

P.S. Dick Lester (of A Hard Days Night fame) directed the TV version of the Goon Show - A Show Called Fred. It was good, but radio was freer - i.e., you couldn't float Dartmoor Prison across the English Channel on TV (maybe the BBC should have spent more money). Also there is a rare and beautiful film (without Harry Secombe) called "The Running, Jumping, and Standing Still Film." Ask your local art house to find it - it's a masterpiece and captures the Goon spirit very well.
John Lennon and the Goons
Whether or not the Goons influenced the Beatles, and to what degree, has been widely debated. The well known British pop music essayist, who goes by the pseudonym Saki, believes that the influence was significant. She wrote, "I think John had the greatest love for the Goons of all the Fabs, though it touched them all. My impression of their film Help! was much elevated when I realized that it bore a strange resemblance to a Goon Show made visual. And if you think about it, 'Help!' has all the hallmarks of an imitative tribute to the Goon format: terrible puns, a foursome in the foreground (Michael Bentine, the fourth Goon, admittedly left rather early in the game), a passel of amusing sidekicks, nebulous villains both foreign and domestic, and a script rife with non-sequiturs and theatrical stylizations."
Author David Pryke, in his on-line John Lennon information newsletter, twospiritsdancing (#19, 30th September 2001), wrote about how John loved the New York City lifestyle, and wanted to live there permanently with his new American wife, Yoko Ono. What should have been a straight forward application for permanent residency, Pryke wrote, became a harrowing four years fraught with rejections and delays. The spanner (Spaniard?) in the works was a British criminal conviction, three years before, for the possession of half an ounce of cannabis. As the case dragged through the US court system, John was aware that his phone was being tapped and his movements tracked, creating a tense and soul-destroying time for both John and Yoko. But John had some well-connected supporters, such as Henry Kissinger and Norman Mailer. Both men testified in court, praising John as an artist of the highest standing, who should be allowed to stay in the United States. So, when John finally received his Green card on October 7th, 1975, he could hardly believe it.
There is plenty of evidence to suggest that, more than any other influence, it was the weekly Goon Show on the radio that provided the spark that ignited John Lennon's love of words and fantasy, not to mention his wicked sense of humour. John always claimed it was the Goons who inspired him to write, and their influence can certainly be seen in John's books. So you can probably well imagine John's excitement at meeting recording engineer and producer, George Martin, for the first time back in 1962. A record producer good enough for the Goons, the Beatles felt, would be good enough for them.
John Lennon's love of the Goon Show extended back to his early teenage years when his Aunt Mimi and Uncle George had installed an extension speaker in John's room so that he could listen to his favourite radio shows any time he wanted to. Aunt Mimi recalled one particular day when John listened to the Goon Show upstairs in his room (The Beatles: An Oral History, by David Pritchard & Alan Lysaght, 1998, Hyperion; ISBN: 0786864362),
When the show was over, young John ran downstairs.
"Aunt Mimi, were you listening?" John asked.
"No, dear, what was on the radio?" she asked.
"The Goon Show!" John replied enthusiastically.
"Oh, is it that late already? How was it this week?"
"One of the best," John replied with a twinkle in his eye.
He proceeded to re-enact the entire show for her, complete with accents and choreography. George heard Mimi laughing and came into the kitchen to see what was so funny.
"Well, what's going on here?" George asked curiously.
"John is performing The Goon Show for me," Mimi replied.
"Yeah, Uncle George, come watch," John asked.
So, George sat down next to his wife and watched John continue his performance.
According to David Pryke (ibid), one of the things that kept John going while he was waiting for his Green card was his love of the Goon Show. It was during those four years that The New York Times asked John to review The Goon Show Scripts, and John set about the task with real enthusiasm. John's 2nd wife Yoko was obviously very aware of John's feeling for the Goons, because several years later, on the occasion of John's 37th birthday, Yoko presented him with some 40 hours of Goon Show tapes, which he loved to listen to.
(3) Leicester's 60s pop group, the Foursights...
The moderately successful UK pop group, the Foursights (originally the Primates) were Leicester's own 'Fab Four(eyes)'. The group was signed by EMI, and their first record (and last) which was a number one hit (in Glen Hills and Blaby) was And I Cry. It was rumoured that 5000 copies were sold, but the group didn't see a penny either in royalties or expenses. The Foursights consisted of Bill Coleman (center left), Doug Abbott (center right), Tim Airey (front), and David Lindsay (rear). True to their name, they all wore glasses (offstage at least three of them did) in the Hank Marvin/Buddy Holly style.
The Foursights have their own website here, designed and maintained by ex-Foursight member Tim Airey. In the 'Circa 1963' section of the Foursights website, Tim recalls that the group used to rehearse in the large kitchen of the Abbott's bungalow...every Sunday afternoon, breaking only for one of Doug's Mum's excellent cups of tea and occasionally to watch the Goon Show (puppet version) on TV.
(4) Peter Green, founder of super band Fleetwood Mac...
The following is an excerpt from an article by Alan Franks about Peter Green, Return of the Bluesman, published in Times Magazine, Saturday 31st July 1999. [see http://www.fleetwoodmac.net/penguin/archive/times1.htm]
Peter Green has been to hell and back. The founder of the superband Fleetwood Mac disappeared into a haze of drug abuse and mental institutions at the height of his fame. But now he has emerged from the wilderness with a new band, a new album - and some scars that will never fade. Alan Franks meets a rock survivor.

For a rock music comeback to be more implausible than Peter Green's, it would need to involve resurrection. This is the guitarist who founded Fleetwood Mac, a group which, for a period in its late-Sixties heyday, was out-selling the Beatles and the Rolling Stones. Green's life story since then has been so full of darkness and disappearance that he was regularly assumed to have joined the celestial supergroup with Elvis at the microphone, John Lennon on guitar and Keith Moon behind the drums.

His was not just another sad decline, for at his best he was reckoned to be as good a player as any thrown up by the English discovery of electric blues. When he joined John Mayall's Bluesbreakers, an essential training ground of the period, he proved himself to be as passionate in his performing, as inventive in his soloing as his immediate predecessor, Eric Clapton. Some said he was the best of the lot, never mind Clapton, or Jeff Beck, or even Jimi Hendrix.
...
Green's real name was Greenbaum. He was the youngest of four children from a Jewish family in Bethnal Green in the East End of London. His father was a postman. While he was at school the family moved to Putney, in south London, and Green worked for a while as a butcher before turning professional. By the time he was 24, and leaving Fleetwood Mac, he had written a string of hit songs for the band, starting with Black Magic Woman in 1968; Albatross went to the top of the UK charts later in the same year, and Man of the World and Oh Well reached number two in 1969. When he went his own way, Fleetwood Mac embarked on a hardly less erratic course, with members coming and going like soap plots, and love tangles upstaging their musical lives. He has no more reverence for them than for himself. He reckons they look like a bunch of clowns, with Mick Fleetwood, the drummer, a man on stilts, and Danny Kirwan, the guitarist and singer "like Bluebottle from the Telegoons".
My guess is that Green's comparison of fellow band member Danny Kirwin to Bluebottle from The Telegoons was a form of endearment, since Danny looked only slightly like Bluebottle during the 1960s. Rather it indicates that Peter Green had been a fan of the television series.
(5) Hunt Emerson, British cartoonist...
By many accounts, Hunt Emerson is Britain's foremost cartoonist and underground comics artist. Raised on an early diet of The Telegoons, Hunt Emerson has drawn cartoons and comic strips since the early 1970s. His Telegoons-inspired drawings of the Goon characters adorned the covers of several Goon Show Classics LPs, and during his teeth-cutting stage he regularly contributed his drawings of Neddie Seagoon, Grytpype-Thynne, Moriarty, Major Dennis Bloodnok, Eccles, Bluebottle, Henry Crun and Minnie Bannister to the Goon Show Preservation Society's Newsletter, and also the Brown Paper, a newsletter printed by it's northeast affiliate. Hunt has published some thirty comic books and albums, mainly through Knockabout Comics (London). Among his more successful and well-known works are The Rime of the Ancient Mariner and Lady Chatterley's Lover. Possessing a wry and irreverent sense of humour, Hunt Emerson engages in a form of image play, which rather like Milligan's word play, takes situations, ideas, and especially dismantled clichés, to their illogical (or visually improbable) conclusion. Hunt's most famous cartoon creation is the bizarre City Mouth, while his most famous comic strip character is Calculus Cat, the cat who hates television. His comic strips have been translated into ten languages. The recipient of several prizes, these days his work regularly appears in the Fortean Times, which he has contributed to since 1979.
In answer to a question about The Telegoons, Hunt said, "I always liked the Telegoons - my memories of them, that is, from seeing them on early steam television when I was a kid.... My drawings for the GSPS were based on those Telegoon memories (when they weren't Caricatures of the Goons--amazingly difficult to do!), and I always thought the puppets captured the voices better even than Sellers' and Milligan's sketches. Just think if they tried to do them today - they'd have all the snot, grime and sleaze sanitized and corporatized out of them."
Hunt Emerson's Largecow website is here.